How should you think about brand and design for your short-term rental? The goal is to get the highest price and set the right guest expectation.
Short-term rental lodging is truly the ultimate "brand of one". Each home or unit can be unique. Though each guest journey is unique, the positioning of your home on the spectrum of economy to luxury should be consistent. If furnishing and fixtures are luxurious and you can charge $1,000+ per night, but the towels are thin or economy-level, a guest will remember this and it will lead to an inconsistent experience, or a feeling of not meeting guest luxury expectations.
This is a visual representation of how short-term rentals can overlay with hotels related to brand and guest journey expectation: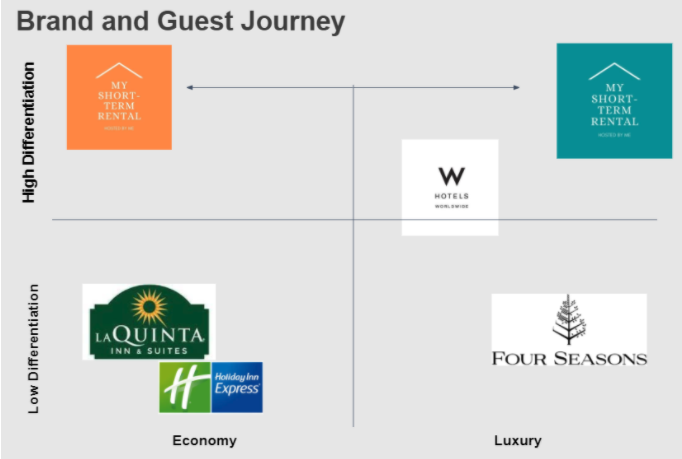 After speaking with Ellie from Homeslice Stays and Rita and Michelle from Defined ID, we walked away with a few great tips and tricks and things to consider.
Should I Hire a Designer?
How can I ensure the best fit choices for me?
—
Luxury vs Economy:
The more luxurious your brand positioning, the higher the expectation that every touchpoint in the home is of a certain quality. The closer your home is to the economy end of the spectrum, the more creative you may need to get with your design investment. Whether economy or luxury, a designer can assist in different ways. Maybe hiring someone to help with just the main living and dining areas would be helpful? Saving you time and ultimately helping you source great deals too.
Commercial Grade Product Access:
For short-term rental design, it's important the designer has access and understands which pieces might be better as commercial grade. For example, the couch that is used frequently during every stay may be worth upgrading to commercial grade. There are also options for finding this type of furniture used, and vetting designers for their ideas and resources could be important.
Instagrammable Moments + Direct Bookings:
A good designer will not only help you create comfort and consistency for the guest journey, but they can also help you create "wow" moments for the guest. This can be great user-generated content to drive direct bookings too.
Insurance:
If you do decide to invest in high-end pieces, you can protect yourself with the right insurance. Having insurance like Waivo or Proper can ensure you're able to replace any damaged furniture without hitting your wallet.
Do It Yourself
If you have the time and interest, there are so many great resources available to design on your own
—
Wayfair:
At ASTRHO, all members have access to trade discount pricing.
Hotel Supplier or Liquidation Websites:
These can be good resources for finding commercial grade pieces.
We asked Homeslice Stays and Defined ID, what are your best tips and tricks for staging and getting the perfect shots. As we know, images are so critical for every listing.
The Golden Hour:
the lighting at sunset can be exactly what is needed to make the room or exterior space look perfect.
Double Duvet:
A fluffy bed can be achieved by putting more than one duvet in place for the shoot.
Ensuring Zero Wrinkles:
Having a steamer on hand to touch-up event the smallest fabric placements can be key to the perfect image.
Ensuring Zero Clutter:
Gorgeous and differentiated design will really pop if all items are in place, and no power cords or misplaced items are showing up in the image.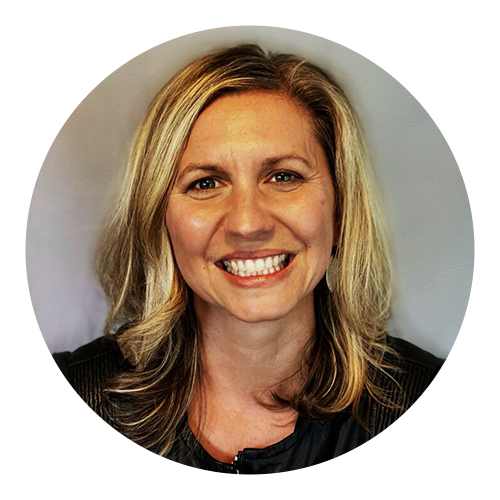 Heather Richer has a broad background in lodging with experience in both short-term rentals and hotels. She is passionate about revenue management, and currently serves on the Revenue Management Advisory Board for HSMAI. Having been involved with other organizations like AHLA, HEDNA, and VRMA, she sees the value in education and unbiased resources needed for the underserved community of short-term rental homeowners. Heather is currently Principal, Richer Logic Consulting and previously was CMO of RedAwning. Prior to that, she served as VP, Revenue Management and Distribution at Kimpton Hotels and Restaurants. She holds her Masters in Tourism Administration from George Washington University.