bring value to a community that matters to you
Join us in our mission to provide education, resources, and a community to help homeowners of short-term and vacation rental properties. Together, we help homeowners achieve financial success, meet legal obligations, and provide professional, clean, and safe hospitality for both hosts and guests.
How to engage + Connect with the ASTRHO Network
---
You can become an annual member, an annual sponsor which bundles additional advertising opportunities with your membership, or purchase single media opportunities in conjunction with your membership. Sponsors have the opportunity to host informational webinars, share featured articles, content and even chat directly with homeowners within our networking platform.
Corporate ANNUAL MEMBERSHIPs
$350 / Year
All annual memberships get you a listing in our online directory along with member-only marketing and advertising opportunities. You get access to our exclusive online community of homeowners where you can directly interact, answer questions and serve as a knowledgable industry leader to our base of homeowners. We have rules though! No sales pitches, we expect our corporate members to provide value, expertise and assist in the growth and success of the overall Short-Term Rental industry.
Corporate Sponsors • dive deeper into the community
The basic
$2,500
Per Year


Includes Membership


$2,500 in Marketing Spend


The PRO
$5,000
Per Year


Includes Membership


$5,000 in Marketing Spend


The Premier
$10,000
Per Year


Includes Membership


$10,000 in Marketing Spend


Reaching + Supporting Vacation Homeowners
Reserve the Homepage spotlight

Become a Featured Vendor

Host a Webinar, Event or E-Learning Course
Share a Featured Article or Blog

Be Featured in our Weekly Newsletter

Social Media Posts + Mentions
Let's Build and Grow Together
Together we can advance short-term and vacation rentals as part of the entire lodging industry. Together, we all win.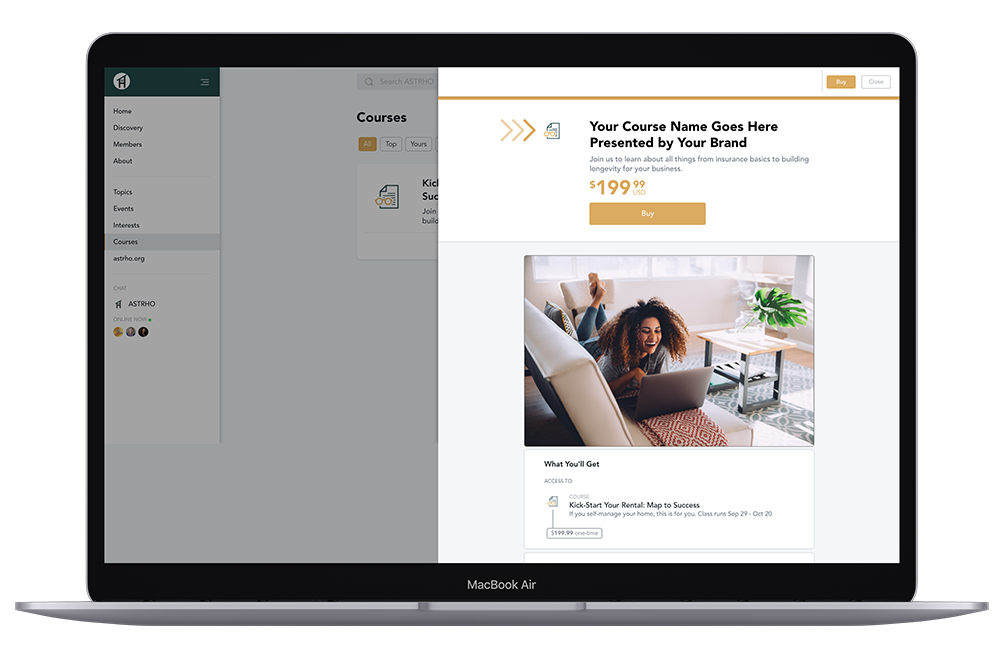 Host an E-Learning Course
Sponsors have an opportunity to host an online E-Learning Course where you can share your industry or niche expertise with homeowners. These can be live events or pre-built courses with downloadable assets and workbooks.
Share Your Industry Expertise with a Featured Article
Have some great content you want to share with homeowners? Share your sponsored content within our networking platform with featured placement for one month. Best of all, you can directly interact and answer questions from homeowners reading your article in real time.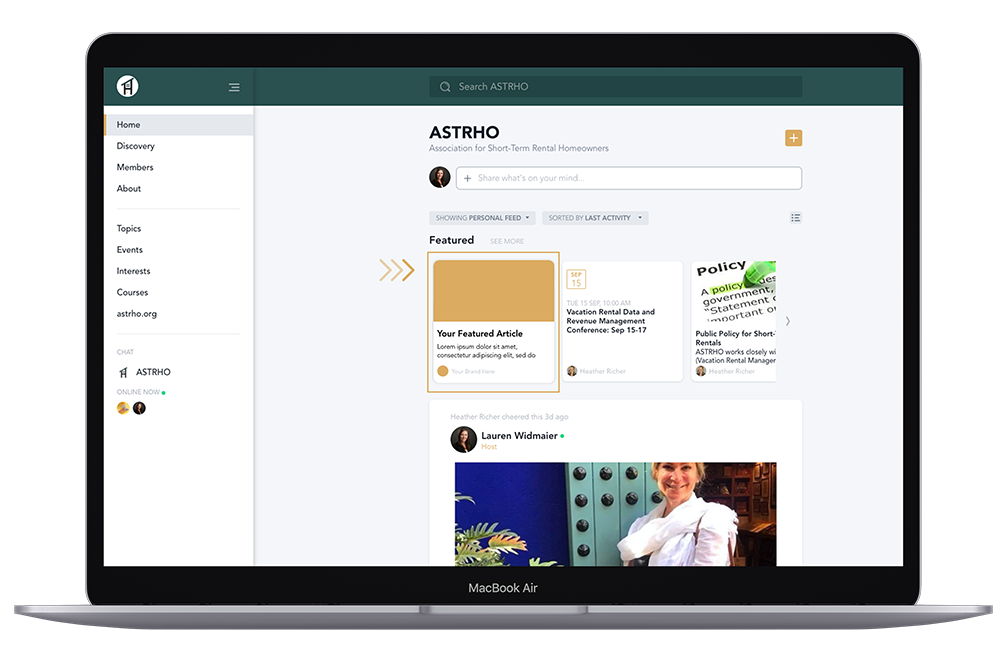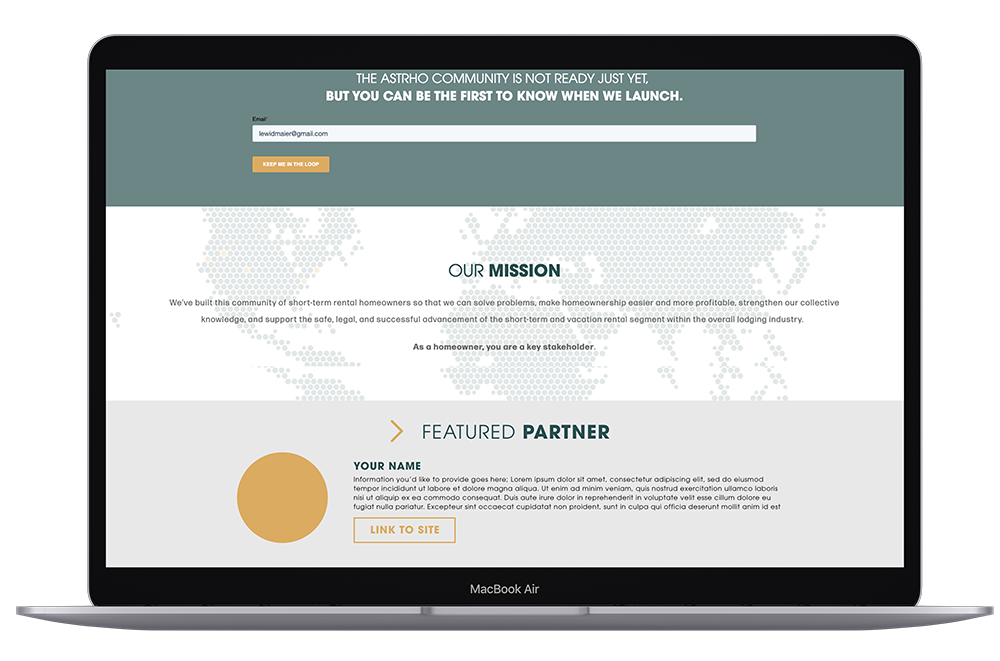 Claim the homepage spotlight
Support our mission and feature your business on the homepage of ASTRHO.org. Stand out and show homeowners exactly who you are and what value you bring to the community and industry.
Promote your brand + Content in our Weekly newsletter
Utilize our weekly newsletter, sent to both email subscribers and members to showcase your featured article, an upcoming event, a new promotion or value add you're offering to our network.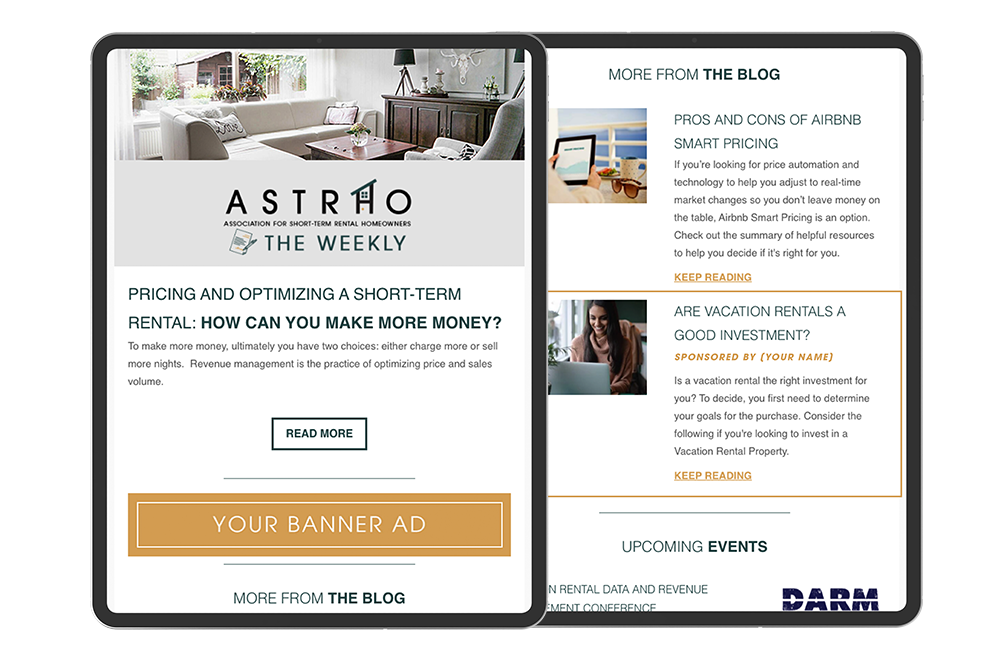 Support our Community and Vacation Rental Industry
Become a member today
Get started by submitting our quick inquiry form below.  A member of our team will be in touch to discuss your membership and sponsorship within 24 hours.